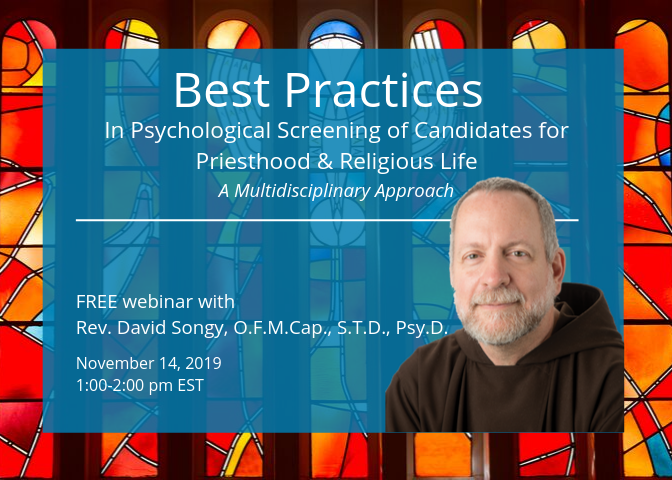 Candidate Assessment Program
Saint Luke Institute has been providing psychological assessments for applicants to the priesthood and religious life for nearly 30 years. Our candidate assessments are:
Comprehensive, integrating spiritual and human formation
Consistent with the Church's expectations for candidate assessment
Confidential, because privacy is of paramount concern
We provide this service at all five Saint Luke network of care locations.
Saint Luke Institute Candidate Assessments
The Saint Luke Institute Candidate Assessment Protocol (SLI-CAP) is a multidisciplinary team approach to psychological assessment using two clinicians and one trained spiritual director. With this collaborative, holistic model we are able to integrate a variety of perspectives and provide the candidate and diocese/order with a richer, more positive experience.
The SLI-CAP is based on best practices in psychological and spiritual assessment and is aligned with the United States Conference of Catholic Bishops' Guidelines for the Use of Psychology in Seminary Admissions.
Components of a Candidate Assessment
Pre-Assessment Personal Profile and Spirituality Profile
Two questionnaires completed prior to the on-site assessment
Clinical and Psychosocial Interviews
A series of interviews with two trained professionals to explore and understand the candidate's psychological and psychosocial profile
Spiritual Assessment
An in-depth interview with a spiritual formator to identify the candidate's current religious beliefs, practices and understanding of the discernment process
Intellectual and Psychological Testing
Intelligence testing to obtain a current measure of intellectual functioning
Personality testing to better understand the candidate's personality profile and general mental health
Feedback
A one-hour meeting with the assessment team, candidate, and formation or vocation director to discuss the results
A detailed written report sent within two weeks to the candidate and the formation or vocation director
SLI Candidate Assessment Protocol Training
Teaching practitioners the skills they need to conduct integrated, comprehensive psychological and spiritual evaluations for individuals discerning a call to priesthood or religious life. 
"Best Practices in Psychological Screening of Candidates for Priesthood & Religious Life" now available free on-demand.
Register today at SLIconnect.org/training.