Outpatient Therapy
Renewing Hope
Listening with compassion and offering clinical expertise for navigating struggles affecting daily life
Individual and Group Therapy
We offer group and individual therapy and spiritual direction for local laity, clergy, and religious to help them address and navigate struggles affecting daily life. Outpatient therapy is conducted by our staff of competent and experienced licensed psychologists, social workers, and professional counselors who understand the values and concerns of Catholic clergy, religious, and laypeople.
Individual Psychotherapy
Regular individual therapy sessions with a licensed therapist address both short-term needs and more complex struggles. Individual therapy begins with an initial interview to review and assess the client's concerns. At the conclusion of the evaluative interview(s), a treatment plan is developed that assists the client in defining and achieving their goal(s). Clients may be referred for comprehensive evaluations, ancillary and/or more intensive treatment services if necessary.
Group Psychotherapy
Group therapy with other clients, facilitated by a therapist, provides a supportive environment for making change. This safe environment in which a person is allowed and encouraged to be their authentic self can be a potent venue for change, growth, and healing. It provides a valuable opportunity to hear and incorporate objective feedback about how they are perceived, and to learn healthier and more optimal ways of relating.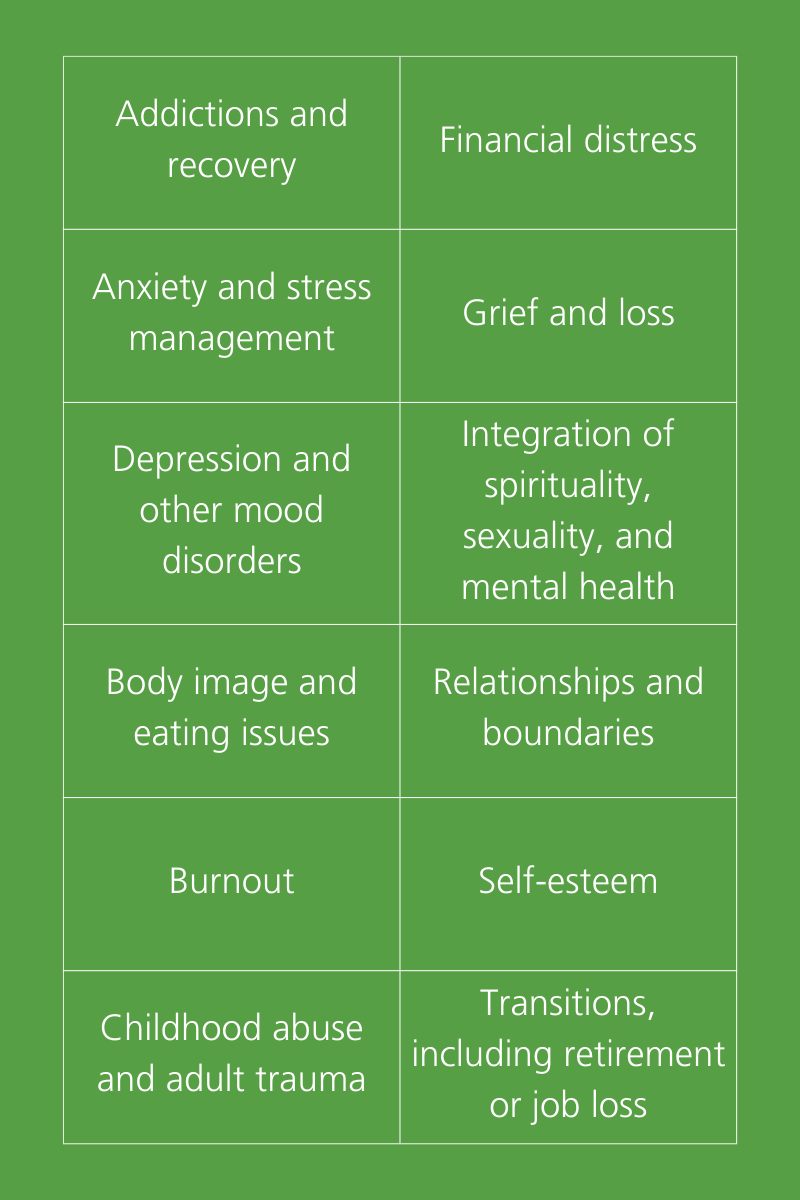 Women's Group Therapy
We are now offering an in-person psychotherapy group for women religious in the metro Washington, DC, area.
Conducted by two therapists, the group allows women to safely explore, and better understand, their ways of being with people. In this accepting and supportive environment, participants are able to learn about the perceptions and assumptions they hold about others and themselves, as well their own personal style of relating. As they learn and grow inside the group, they build skills for improving relationships with family, community members, friends, and co-workers.
Who Can Participate?
The group is open to women religious in the metro Washington, DC, area who want to learn more about themselves and their interpersonal style.
Where and When?
The group meets in person weekly for 80 minutes on Wednesdays from 10:30-11:50 am in Silver Spring, Maryland.
How Can I Learn More?
The group is ongoing with a rolling admission. Contact Emily Ray, Director of Clinical Services, for details. Phone: (301) 422-5430 | emilyr@sli.org